ISBN: 9780310291084
Publisher's Synopsis:
With fates bound by a shared tragedy, a reformed gambler from the Colorado Territory and a Southern Belle bent on breaking free from society's expectations must work together to achieve their dreams—provided that the truth doesn't tear them apart first.
Sylas Rutledge, the new owner of the Northeast Line Railroad, invests everything he has into this venture, partly for the sake of the challenge. But mostly to clear his father's name. One man holds the key to Sy's success—General William Giles Harding of Nashville's Belle Meade Plantation. But Harding is champagne and thoroughbreds, and Sy Rutledge is beer and bullocks.
Sy needs someone to help him maneuver his way through Nashville's society, and when he meets Alexandra Jamison, he quickly decides he's found his tutor. But he soon discovers that the very train accident his father is blamed for causing is what killed Alexandra's fiancé and shattered her world.
Spurning an arranged marriage by her father, Alexandra instead pursues her passion for teaching at Fisk University, the first freedmen's university in the United States. But family—and Nashville society—do not approve, and she soon finds herself cast out from both.
Through connections with the Harding family, Alexandra and Sy become unlikely allies. And despite her first impressions, Alexandra gradually finds herself coming to respect, and even care for this man. But how can she, when her heart is still spoken for?
Sylas Rutledge will risk everything to win over the woman he loves. What he doesn't count on is having to wager her heart to do it.
"I'm here because I desire to help the freedmen in their new lives.
I believe we have a responsibility to teach any and all who
would like to learn. Up until recently, the freedmen have not
been afforded that opportunity. And I would like to help change that."
Alexandra Jamison is spunky, loyal, trust worthy, and willing to accomplish those things that most people will shy away from.
In 1871, women were told who to marry. Alexandra loved her father, yet she had a life to live and her father's plan of marriage didn't fit in any way. Even though she was part of Nashville's founding families, the social life for a lady wasn't of importance. Since Dutchman's Curve and David, her life would have a different meaning.
When her father requests that she help the owner of the Northeast Line Railroad, she didn't expect all the frustration nor the bonding that would eventually lead her to discovering the truth about why her husband died at Dutchman's Curve.
Silas Rutledge doesn't have time to become a "Southern Gentleman." Coming from Colorado, he knows how to get things done. Yet, Alexandra had an intriguing solution. If he wanted to win the bid for his railroad, he would have to be taught how to the prospective owner of the Belle Meade Station thought which meant he would need to think like a southern gentleman.
When Alexandra begins her new life as an instructor at the Fisk University, she was determined to help all who attended her classes become educated. Fisk students were expected to become scholars. Scholars who were well educated in the knowledge of eternity, the Creator, His Son, and the Spirit. She never considered that she might called to travel with the Fisk Jubilee Singers as they performed for funding of their university. Nor did she expect to be mentoring Mr. Rutledge in the expectations of southern etiquette.
For Silas, he thought winning the bid was his main purpose for coming to Nashville. He was not prepared to learn the ways of the south, nor was he completely prepared to clear his father's name from the scandal that was associated with the train wreck at Dutchman's Curve. The last thing he had on his mind was an intelligent, albeit strong-willed women and her need for his truth in her healing.
The delightfully entertaining quips between Silas and Alexandra are equally matched as a captivator and a spitfire. Be prepared to smile, entertain moments with a few giggles, and become completely engaged in the lives of these characters.
When historical fiction is well woven, the reader forgets which time frame they are presently entertaining...
MrsK
"The time had come for her to choose her own path...
No matter the cost."
Very inspiring... quick... spirited... and oh, so entertaining!
Meet the Author: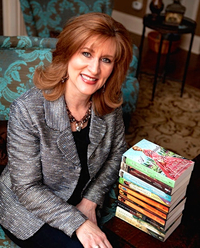 Tamera Alexander
is a USA Today bestselling author and one of today's most popular writers in the inspirational historical fiction genre. She and her husband live in Nashville, Tennessee, not far from the Southern mansions that serve as the backdrop for six of her award-winning novels.
"I received this book for free from the Fiction Guild for this review."