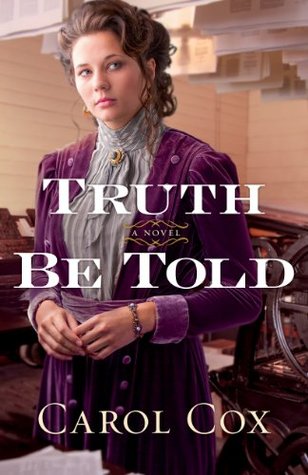 Good Reads Synopsis:

Wild West Romance and Mystery from Carol Cox
When Amelia Wagner takes over the running of her father's newspaper in Granite Springs, Arizona, she vows to carry on the paper's commitment to reporting only the truth. But Amelia soon learns that even the truth can have consequences. Her father's revealing articles about Great Western Investment
Company's business methods have caught the notice of the wrong person, and pressure mounts for Amelia to retract her father's statements.
Determined to find the truth, Amelia goes through her father's notes and begins to interview members of the community. She can't seem to shake Benjamin Stone, a Great Western employee who's been assigned to keep tabs on her for the good of the company.
The more Ben and Amelia learn, the more Amelia's father's claims appear to be accurate. In fact, it's probably worse than he realized. Even Ben is beginning to wonder if he's become a pawn in the workings of a corrupt empire. But Great Western isn't about to stand for a female reporter and one of their own men bringing down their lucrative schemes. Working against time, and never knowing what danger lurks around the next corner, Ben and Amelia set out to reveal all they've discovered before Great Western silences them for good.
MrsK's Review:
With so many books to read, it is pure satisfaction to read a book that causes you to slow your reading pace down and savoir the experience and the moments. My moments have been on the back porch (what my husband has nick-named the chicken coop). Since the porch is on the north side of our house, I can sit and read with a cool breeze. Whenever I glanced away from these pages... I would get lost in a day dream of what Amelia was seeing... hearing... and feeling.
It is May 1893 when Amelia Wagner returns to Granite Springs, Arizona:
"She closed her eyes to sort out the different scents tingling her nostrils---the sharp tang of pine trees growing on the nearby slopes, the pungent odors of fresh-cut lumber wafting from Martin Gilbreth's sawmill, and the fragrance of the creosote bushes that dotted the hillsides of Arizona's high desert.....
Amelia took in another deep breath, savoring the fragrance of home."
Home. There must be a good reason that Papa was not there to meet her. It wasn't a problem really, the Granite Springs Gazette was only a few blocks... after all her father was the owner, editor, publisher, and chief reporter... he probably just got "wind of a good story and lost track of the time."
Unfortunately, within days of her arrival Amelia is burying her father and is now the owner of the Gazette. Why was her father being intimidated by the Great Western Investment Company? Why had her father written articles that was unnerving the company? Her father's commitment to the community was to always report only the truth and to place the community's welfare before any corporation's design. What was behind his revealing articles that was pushing the company to request a retraction? Why had her father purchased the property out of town and not told her? As the Gazette's reporter, Amelia begins investigating what her father knew.
At first Amelia is not in a position to be distracted by the attention of Ben Stone. She met him on her first day in town when he came to discuss the retraction of her father's story about the Great Western company. Until that evening when he appeared on the road out of town... at just the right moment... and "rescued" her from a "buggy" breakdown. Why was Ben Stone on that road? How did he know that the buggy belonged to her? As Amelia is trying to put all of these pieces together....
Ben Stone is trying to unravel why the Great Western company has assigned him the duty of pursuing Miss Wagner. The truth that Ben discovers is more devious than what his boss originally portrayed:
"He's loyal to the company, and that's what matters. If it doesn't work out the way we hope, we can always find another way to deal with the problem... Don't be so shortsighted... Violence is not the only avenue available to us..."
What Ben was unaware of was that Merrick, his boss, knew all to well how loyal Ben would be. After all, Ben's father never "looked beyond the genial, caring surface" of his trusted friend.
With the Gazette needs, the attention of Ben, the investigation of the Great Western company, and her mother's love interest... Amelia will need to muster all the strength that God can provide.
Amelia and Ben are not the only characters that "feel" as if you know them. Homer is a perfect guardian. Merrick is detailed with so many facets of self-indulgence, cunning deception, and falsehood. One of the many talents of Carol's storytelling is the ability to set the scene. Her transitions between setting descriptions and conversations provides her readers with the illusion that you are a visitor with in the scenes. This book is a quick journey back in time, it is about a historical career in which our nation once herald as noble without deception. Reporting the truth behind every headline is what separated victory from tyranny. It was the American voice of concern for all....
Take the moments of today to travel back in time... you will enjoy your journey,
MrsK
Native Arizonan
Carol Cox
has an abiding love for history, mystery, and romance. The author of more than 25 books, she believes in the power of story to convey spiritual truths. Carol lives with her husband and daughter in northern Arizona, where deer and antelope really do play--within view of the family's front porch. Visit her website at
www.authorcarolcox.com