ISBN: 9780529118707
Publisher's Synopsis:
Winter Kisses by Beth Wiseman
Three generations of Stoltzfus women are all living under the same roof. At twenty-five, Naomi has never been married, and both her mother, Barbara, and her grandmother, Ruth, have recently been widowed. Each nursing broken or lonely hearts, they also each have potential suitors. When a storm on Christmas Eve forces the three couples to take shelter in the basement of the Stotlzfus homestead, secrets are revealed, hearts are opened, and all three potential grooms drop to their knees for very different reasons a proposal, a prayer, and an epiphany.
MrsK's Review:
Delightful tale about the Stoltzfus women. Not only do they live together, they are florists for their small community. Naomi is a creative, hard-working young lady (grand-daughter) who has many dreams and aspirations for her future, a family, and what changes might be brought to her community. Barbara is a woman of strength who brings balance between her mother-in-law and her daughter. For her to find love would mean that the right Amish man would have to be full of life, loving, God-centered, and willing to accept her family with all of their "intolerable" ways. Ruth, well she is the "spice" within the family. She is feisty, full of life, and rather cunning. These ladies were not considering any type of love to come knocking on their door... until the renters showed up carrying their suitcases.
Once the three men arrived at the daadi haus, the last thing they expected so late at night was the sight of one of the owners falling into the deep snow, nor did they expect to see the other two women making a dash from the house. Jethro (the oldest of the three) was the first out of the door. With Wayne and finally Eli arriving at the scene. With gracious concern and inspiring hospitality, this night would usher in more than a blustery wind.
"I wish I had the time to review books and chat with you here, but my writing deadlines just don't allow it. Please like my Fans of Beth Wiseman Page on Facebook where I try to post any news and interact with readers."
Beth is the best-selling and award winning author of the Daughters of the Promise series - Plain Perfect, Plain Pursuit, Plain Promise, Plain Paradise, and Plain Proposal. She is contracted with HarperCollins Christian Publishing. Her other series--the Land of Canaan Novels--begins with Seek Me With All Your Heart, then The Wonder of Your Love and now, His Love Endures Forever. Seek Me With All Your Heart is the first Amish fiction book selected as a Women of Faith novel in 2011. Beth has also written three contemporary Christian fiction novels, Need You Now published in 2012 and The House That Love Built in 2013. In The Promise, (2014) Beth jumps way outside the box. This story takes readers far away from Amish Country and small Texas towns to a dangerous place on the other side of the world. Inspired by a true story, Beth believes this is the book she's been working toward for a long time. 2015 brings Beth back to the Pennsylvania Amish with her new series, Amish Secrets. She is currently working on book #2 following much success with book #1, Her Brother's Keeper.
The Christmas Cat by Amy Clipston
Emma Bontrager is spending her first Christmas alone after her husband of 45 years, Henry, passed away in July. Although the Amish don't normally allow animals in their homes, a big, fat, orange barn cat keeps coming into Emma s house. She shoos the cat away, but it continues to appear in her house, settling on Henry's favorite wing chair. But the cat isn't the only Christmas visitor: a group of young people help bring the Christmas spirit to Emma, reminding her that love and hope abide.
With gracious bravado and dignity, Emma soon realizes that the winter storm would be canceling her Christmas evening out. Even that frustrating cat isn't going along with her plans. Well, what could she do but accept the way the evening was unfolding. Baking Henry's favorite bars would not only fill her house with a "delicious aroma," but it would bring a seasonal welcome to the unexpected visitors that were venturing out on her behalf.

There is such a sweet reminiscent holiday spirit to this tale. I enjoyed the chattering of the young visitors. The "take over" attitude of the cat is quite charming. Yet, the memories that Emma shares with her visitors reminded me of all those women who have touched my life. It truly felt as if I, once more, had arrived home for the holidays.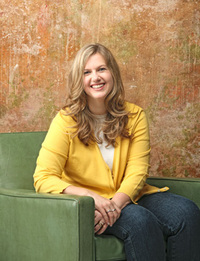 Hi, I'm Amy Clipston. I am an author of Amish and Christian fiction with HarperCollins Christian Publishing. Most of my books focus on the Amish community, faith, and love. I also write romance novels and young adult inspirational stories.
Snow Angels by Kelly Irvin
As a young man enjoying his rumspringa, David Byler gave his heart to an Englisch girl, but he eventually realized he couldn't give up his Plain faith and family for her, so he let her go. He's found a new love in his Bee County Plain community, Molly Shrock. Molly has been patient, waiting for the man she loves to love her back. Just as he is ready to propose, David makes a startling discover: Bobbie McGregor, his Englisch love, is back. Will Molly's prayers for a Christmas love be answered?
MrsK's Review:
Molly has a shy smile that touches David's heart, instilling a hope of a future family. She is steady, friendly, giving, and very loyal. She is assured in faith and very determined to live a life that is governed by the will of God. David knows who he wants to marry, yet with Bobbie showing up at the horse auction, he will need to decide if attraction is as valuable as the heart of the woman he knows is meant for him.

Their struggle will be the turning point in their relationship. What Molly's faith will offer is the wisdom that a marriage is made up of two "whole" people, one cannot be struggling between two alternative lives. Whether David finds strength in his faith is up to him, no one can give it to him. Some times letting go, means allowing your hope to become their freedom to grow. While Molly entrusts David into God's hands, she discovers that she can help bring joy into the lives of others, even if that means being creative and making it snow for two very special children.
Kelly Irvin's newest series, Every Amish Series, began with the debut of Upon a Spring Breeze, in April. The second book, Beneath the Summer Sun, will debut in January 2018. It is a four-book series published by Zondervan/HarperCollins Christian Publishing. This follows the Amish of Bee County series, The Saddle Maker's Son, released in June 2016. It is an ECPA bestseller. It follows The Bishop's Son, and the critically acclaimed bestseller, The Beekeeper's Son, which earned a starred review from Publishers Weekly. The reviewer called it "a beautifully woven masterpiece." The Beekeeper's Son was a finalist in the romance category of the 2016 ACFW Carol Awards Contest.
Kelly has novellas in The Amish Christmas Gift and The Amish Marketplace, both of which were also ECPA bestsellers. She is also the author of the Bliss Creek Amish series and the New Amish Amish series. The first series includes To Love and To Cherish, A Heart Made New, and Love's Journey Home, published by Harvest House. The New Hope Amish series includes Love Still Stands, followed by Love Redeemed, which was an ACFW Carol Award finalist, and A Plain Love Song.
Home for Christmas by Ruth Reid
When a misdirected GPS sends Ellie Whetstone to the wrong address, she inadvertently finds herself breaking into the home of Amish man, Ezra Mast. Ellie hopes to fix up the house left by her aenti and sell it quickly, but a series of run-ins with Ezra and his young daughter have her questioning whether a hasty sale is the right move. Could this new place with its slower pace be the right home for Ellie?
MrsK's Review:
Wow, have you ever dreamed of being given a homestead from a relative. Well, the first thing you should do is know where that house is! Given Ellie's blundering events, not only has she made a lasting impression on her neighbor, but now his daughter and her dog are inseparable.
This is a high-spirited, rollicking series of events. What is endearing about this tale is penned with in the weaving of the romance. Neither Ellie or Ezra want to fall in love, yet, falling in love is not always something we plan. A little nudge here, a push there, and a giant leap can be the ingredients for a love that becomes foundational.
Ruth Reid is a CBA and ECPA best-selling author of the Heaven on Earth series. She's a full-time pharmacist who resides in Florida with her husband and three children.
When you need the break...
between shopping, decorating, cooking,
and all things on your list...
this collection is a perfect retreat for your
Holiday!
It is our Booked to Dine January choice!
"I received this book for free from the Fiction Guild for this review."