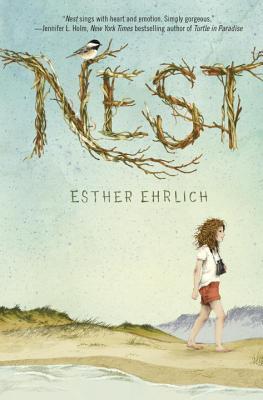 Publisher's Synopsis:
For fans of Jennifer Holm (Penny from Heaven, Turtle in Paradise), a heartfelt and unforgettable middle-grade novel about an irresistible girl and her family, tragic change, and the healing power of love and friendship. In 1972 home is a cozy nest on Cape Cod for eleven-year-old Naomi "Chirp" Orenstein, her older sister, Rachel; her psychiatrist father; and her dancer mother. But then Chirp's mom develops symptoms of a serious disease, and everything changes.
Chirp finds comfort in watching her beloved wild birds. She also finds a true friend in Joey, the mysterious boy who lives across the street. Together they create their own private world and come up with the perfect plan: Escape. Adventure. Discovery.
Nest is Esther Ehrlich's stunning debut novel. Her lyrical writing is honest, humorous, and deeply affecting. Chirp and Joey will steal your heart. Long after you finish Nest, the spirit of Chirp and her loving family will stay with you.
MrsK's Review:
Once in awhile you open a book that feels so "good" that everything around you suddenly fades away. Just look at the cover, does it not invite you to come along on this girl's journey? Naomi "Chirp" is a delightful "free spirit" whose endearing qualities will remain etched within your heart. With the setting of Cape Cod in 1972 comes a fluttering of joy-filled memories for me. Between the historical details there is a "vividness" to the moments between Naomi, her sister Rachel, and her mother as they sing through songs on the radio or from their stereo. Songs bring any reader back into personal memories, thus creating a joyful connection between the characters and the reader. Perfectly chosen... perfectly placed... perfect unison with the threads of the story.
As Naomi's journey begins: I should have taken the shortcut home from my bird-watching spot at the salt marsh, because then I wouldn't have to walk past Joey Morell, whipping rocks against the telephone pole in front of his house as the sun goes down. You are given the "foreshadowing" that these two characters will be important to each other as the story progresses. Do you remember these end of summer activities, class mates who knew of each other but never made connections beyond the classroom. Some of my dearest friends were found in those end of summer days:
"So where were you?" Joey asks, like it's his right to know.
"Just like somewhere," I say.
He looks at me, real serious, and then he smiles and drops the rock.
Naomi shares her passion for bird watching whether it is looking out a window, strolling through pines and oaks, hiking back into her favorite spot in the marshes, or browsing through nature books. Her birds are her pass-time, her joy is found in the moments spent with her mother as they experienced life in nature. Can you remember that care-free spirit as a 6th grader? Do you remember the anxiety surrounding school, the teachers, the school work, and the fitting in? Can you imagine what it would be like if you had to watch your mom grow weaker day after day? It's not easy having your mother dancing with you one day and then having an ambulance taking her to the hospital the next day. Naomi's mother... a dancer, a nature enthusiast, an "imagination" guide, a "swan boat" adventurer, and the one who used playful nick names for her youngest daughter... Chirp, Snap Pea, Sweet Chicken, My Girl, and Chirpie. Each of these names represents a treasured moment, eternally "seared" deep within Naomi's heart.
Naomi's father values family bonding which means "talking" through daily chores, at the dinner table, while traveling, and when life gets rough. Naomi would rather go on expeditions, for her that means being in the nature around her or reading about it:
...schlepped the duffel bags with the fold-up kayak, my backpack with my binocs,
and a canvas bag that Mom packed with hard-boiled eggs, cheese, Wheat Thins,
and watermelon...
Her father has taught Naomi that it is important to "feel connected" with their past in order to "make sense" about their present. He must balance his daughter's needs, his patients, his feelings and fear, and phone calls to the hospital about his wife. Sometimes there just isn't a clear path to follow, but there is determination and hope:
"Even though this is a tough time, there's still a lot to be thankful for."
Naomi's sister Rachel, well she is a few years older, in High School, and knows to "run" to her friends when mom is at her worst. It's hard to be in communication with each other when your mother's MS diagnosis "suffocates" the joy from life. It is Rachel who will clean, cook, and try to provide the "same" household that each of the family is missing.
And then there's Joey. That "unexpected" summer friend. Nothing is safe around Joey's home, so when Naomi's mother gets worse... it's Joey's experiences which provides support for Naomi. Their friendship won't be about solving the chaos around them, but it will be about having that friend that will help you "adventure" beyond the pain.
Naomi's journey is about family, loving memories, friendship, and finding the strength to move beyond tragedy. With characters so richly described... beautifully described east coast settings marking the passage of time... and a sensitive/emotional story about how illness, depression, and suicide leaves a family grasping at hope and learning "how" to begin a new season in living. An excellent choice for reader circles, so many areas for reflective conversations.

Read for understanding,
MrsK
Amazing journey for raising today's readers!
"I received this ebook for free from Net Galley for this review."